The 4th International Green Roof Congress was held at Zorlu Center in Istanbul, 20-21 April. A motto of the congress is "Explore the nature on the Rooftop" and Congress Theme is Green Roofs in Dry and Mediterranean Climates.
Excursion on the roof of Zorlu Center
They were over 400 participants who share the same passion about bringing green into dense urban environment. I feel lucky to participate in such an interesting event as a master student from Telemark University College, Norway.
Badge
Zorlu Center
Many speakers from around the world talked about important topics from large to small-scale, from theory to practice. The exhibition included several companies that offer products, services and innovative technologies in the field of green roofs and walls such as ZinCo, Sempergreen, Onduline and Karaoğlu Peyzaj.
System Build-up with Floradrain
Sedum mat
The congress lasted for two days. The first day started from excursion on the green roof of Zorlu Center.
About Zorlu Center from congress website:
"The Zorlu Center, a dynamic and impressive gateway, redefines the experience of contemporary life in the urban core. The mixed-use project with wide public spaces and grand-scale buildings, elements of urban and architectural quality that create a modern city in the 21st century, is a landmark at the European crossing point. With green spaces extending 72.000 m², the center provides a home for 200 plant species including 68 different types of trees."
Amazing view from the rooftop
Green balconies
Extencive sedum roof
Shrubs
Stairs up, one of the entrances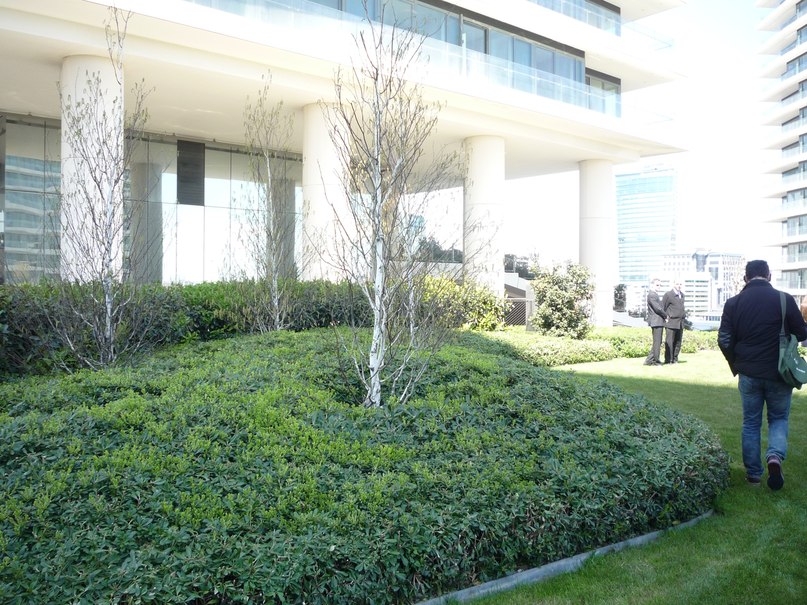 Trees and schrubs on the roof
Wind protection system for trees
I would like to highlight that 70% of recycled water from the hotel and runoff is used to irrigate the roof top gardens.
Irrigation system
Two workshops were held at the first part of the second day. I took part in Workshop 1: "Planning, Installation and Maintenance of Green Roofs". The second part of the day was dedicated to green roofs in dry climate.
In the end, there is a photo from an evening Reception – Bosphorus Cruise Boat Trip.
Evening Reception
Other photos of the roof
Other photos of Zorlu center